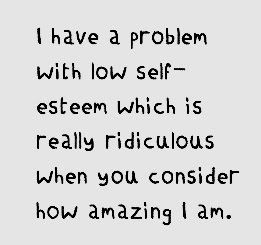 A week ago, this question would not have appeared in my thought.  Why now?  Good question.
It started the day I interviewed an author on Talk to the Author with Dr. Mamie Smith–my radio show.  The author's book revealed how a person could move from bankruptcy to wealth by changing how he viewed himself and others.  The benefits this book introduced were so helpful that I decided to purchase it.  Now . . . after reading a section about self-esteem, I had a startling revelation!  I had been exhibiting symptoms of  . . . you got it . . . low self-esteem.  
I had always felt myself to be right "on target" with the self-esteem issue, but using basic questions supplied by the author uncovered in consciousness just the opposite.  What did I find?  
Before delving into my self-discovery, it is essential to understand what one means when he exhibits symptoms of low self-esteem.  According to Wikipedia, "self-esteem reflects a person's overall emotional evaluation of his or her own worth. It is a judgment of oneself as well as an attitude toward the self. Self-esteem encompasses beliefs (for example, "I am competent," "I am worthy") and emotions such as triumph, despair, pride and shame."   On the surface I revealed self-confidence, competency, logic and the ability to triumph over untoward circumstances, and … for the most part, this defines my true vision of myself, but deeply embedded in the subconscious, was an intense fear of failure.  How did this come about?
As a child, I was a quick learner, retained information superbly, could give it back in an exemplary manner, and made excellent grades in school–so much so that I skipped two grades and graduated high school at the age of 15.  This placed me at a disadvantage as a freshman in college because most of the students were 3 to 4 years older than I.  However, my ability to verbalize successfully caused people to believe my age paralleled theirs.  My "serious" boyfriend was a senior at the college–making him 6 or 7 years older than I–continuing an attitude that  boys my age were immature and lacked the intelligence to match mine.
From early childhood, my parents praised my efforts, showered me with undue accolades and viewed me as the "brain" of the family.  This caused me to try harder and harder to succeed at everything I did–failure simply was not an option and when I did fail, it caused great mental stress.
Mostly, I excelled over everyone else because my community was small and competition very sparse. This sparked an enlarged ego which resulted in the development a somewhat superior attitude about myself relative to others.
I believed myself to be the "greatest," but was actually a "big fish in a small pond."  I got the first dose of reality during my first year in college.  There, I met young people whose accomplishments in life far exceeded mine. This only caused me to work harder and by the end of my sophomore year, I was back among those who exhibited success in achievement–I had worked tirelessly to get there.  I felt  "on top" again!  This continued throughout adulthood for many years, but after reading and digesting many of the concepts and ideas from a book entitled Science and Health with Key to the Scriptures by Mary Baker Eddy, I began to understand that there is only one Ego … and that is God.  God, being the sole Creator of man, and understanding that He created this man in His image and likeness, I began to grasp that all that I am, or ever will be comes from Him.  I am nothing without His grace and glory!
The journey of self-discovery had begun and continues today.  The only differences in people, is basically how they view themselves and demonstrate that viewpoint.  If you see yourself as a failure, you will consciously or unconsciously work at becoming a failure.  Even though I viewed myself consciously as a successful individual, subconscious tendencies of low self-esteem did not allow me to achieve at my highest capacity.
What are symptoms of low self-esteem?  There are a many . . . among them are:
Chaotic Relationships
Defensiveness
Eating Disorders
Fear of Making a Mistake
Perfectionism
Wearing a Mask
Promiscuous
In her book, 
Breaking the Chain of Low Self-Esteem,  
Dr. Marilyn J. Sorensen
lists several symptoms of low self-esteem and gives helpful ways of dealing with them.  However, as a person who uses metaphysics instead of physics in dealing with all human dysfunctions, I explored divine intelligence as a basis of uncovering hidden emotions and agendas.
Therefore, as I grew in my desire to serve God and understand my relation to Him, I found myself doing things far above my imagination, recognizing that as one reflecting the intelligence of divine Mind, there
are
no limitations, doubts, fears or inabilities … "all things are possible through God."  It is not easy to demonstrate this confidence, because the human environment is constantly holding ineptitude, lack, insecurity and imperfection in front of my gaze and rising above them takes daily prayer, self-awareness and self-alertness.
Today, I seek only to think, speak and act with confidence, impartiality, self assurance, humility, respect and gratitude.  How do I do that?
Seek a greater understanding of God as Mind, Spirit, Soul, Principle, Life, Truth and Love.  (See Science and Health with Key to the Scriptures, p. 465).  
Recognize that understanding God and my relationship to Him/Her, is an eternal process that must be constantly embraced here and hereafter.
Daily effort is made in reading and studying the Bible, Science and Health and other chosen spiritual materials.
Daily, putting into practice everything I learn about God and myself as a child of God.  Practice allows me to continually grow in those areas and not reach stagnation.
Seeking only to "love my neighbor as myself" and recognizing that the only real Self is God.  Thus, if I love and obey God, I will love my neighbor . . . and every person, black or white, red or yellow, rich or poor, Christian or Muslin, is my neighbor.
Using The Ten Commandments, Beatitudes and The Lord's Prayer  as the foundation for  spiritual growth, practice and development.
Writing this article, was an opportunity to define the qualities given to us by God, and discounting man-made beliefs and ideas.  Self-respect, based on a spiritual foundation, does not breed arrogance, nor does diminishing oneself, enlarge abilities.  Thus, it is essential to tap into God-derived qualities, employ them and establish increased self-esteem and spirituality.