The Three P's:  Patience, Persistence, Perseverance are the cornerstone of an athlete's pathway to becoming an Olympic champion.   These words mold and shape his character and direct his actions.  They begin with one's efforts to overcome trials and defeats and bloom into poise, courage and humility.
Most of us never dream of becoming an Olympian.  We set our goals only on getting an education, landing a traditional job and planning a normal future: no lights, no headlines and no commercials!  A select few in the world have that dream and  .  .  .  achieve that dream.  Just think, of all the swimmers, gymnasts, runners and volley ball players in the world, only a few walk on the world's greatest court or pool–the Olympics!  What do they have that we don't have?  What do they do that we don't do?
 It can be summed up in three words:  patience, persistence and perseverance.  This article will explore how the ability to understand and consistently practice these words bring success.  So that you and I are on the same page, let's define them.
Patience – Webster says, Patience "is any admirable endurance of a trying situation .  .  .  usually through passiveness which comes out of understanding."
Persistence –  Refusing to give up or let go; the continuance of an effect after the removal of its cause; stubborn or enduring continuance.
Perseverance –  Adhering to a course of action, belief or purpose without giving away.
These qualities have no special order that must be adhered to in order to achieve success.   For example, to believe that patience must be present before persistence can be activated is not true.  It depends on the person, level of competency needed and the task at hand.  Patience should be to applied to curb impatience at all times, but to think, "I can't be persistent now because I have not thought of the word patience," is not a necessity.  If a person is mentally connected to God, his needs are supplied in every situation or condition.  It could occur at the beginning, middle or end of an idea or action–simply seek it when it is needed.  This holds true for the other two, but a combination of all of these should be used to achieve a level of success in any endeavor.
What are some emotions that are opposite of patience?  Anger, annoyance, negativity and immediate gratification.  When any of these are in thought, there is no space for patience.  Persistence on the other hand, demands continuance, resoluteness and that which is everlasting.  Such qualities cause lack of fear, steadiness and great inner strength.  When everything around you is screaming "give up," persistence says, "not yet."  It creates a fighting spirit–a spirit that stands in the face of discouragement, failure and insurmountable opposition.  Perseverance is sometimes tied to persistence.  I see it as a deeper commitment–one of endurance, unrelenting resolve, tenacity and a "stick-to-it-ness" that is immeasurable!  Individuals that lack perseverance exhibit behaviors that are surface-oriented, temporal, shallow and short-lived.
Let's investigate the lives of three athletes and see how their lives were changed as they used these three words.
Michael Phelps
 Michael Phelps was born in the state of Maryland in 1985.  His mother was a teacher and his father, a state trooper.  He has two sisters who  paved the way for Michael's early recognition of what patience looks like.  Both entered the sports arena and struggled with competition, injuries, failure and like many of us, finally chose a different path in life.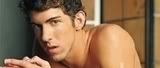 Before he was 9 years old, Phelps had to overcome attention deficit hyperactive disorder (AHHD)–a disorder that takes away a person' ability to control his behavior.  With the help of his mother, he began to master this deficiency.   Two years before this, he had witnessed a divorce between his mother and father–an experience that can be devastating to a child.  Each experience prepared him for the life ahead. 
After trying his hand at baseball, soccer and lacrosse, Michael found his niche–swimming.  So in 1996, at 11-years old, he began his destiny.  It was at that time that he met a man called Tom Bowman, a swimming coach at the Meadow Aquatic and Fitness Center in North Baltimore–a person who would become an integral part of his life.  Bowman helped him define and polish the qualities that would shape him into an Olympian–development of a strong competitive nature, anger management, fear control and destructive tendencies that would interfere with his ability to compete successfully.  Watching his sisters as a young boy, Phelps knew what hard work was and this quality matured into persistence.  He was ready for intense training and acquired perseverance with each event–allowing him to master the back-and-butterfly-strokes with precision and above record speed.
Time after time, his even temperament and "cool demeanor" were assets that allowed him to be triumphant in state, country and world championships.  Financial success arrived at the age of 16, but it was quickly determined that money cannot buy the qualities that one needs to become the greatest Olympian the world has ever known.   He had to reach deep inside of himself to learn those, and  .  .  .  the 2012 Olympics proved  .  .   .   he did.
Gabrielle Douglas
Most viewers had never heard of the lean, spunky, 16-year-old until she marched into the Olympics with four others young ladies representing the United States Women Olympics Gymnastic Team.  That was about to change!  
Gabby, as she is called in the media, left Virginia two years ago and traveled to Des Moines, Iowa to train in Chow's gym.  There, she became part of the family of Travis and Missy Parton.   We know very little about the new gold-medalist–her life is only 16 years long, but, what we do know is that her mother is Natalie Hawkins and grand-mother, Carolyn Ford.  This is not a family of financial means, but a mother who saw the potential of her daughter and did everything she could to help her achieve it.  Douglas is the first African-American to win a gold medal as a gymnast because not many of her race train in this event.  Why is her race mentioned?  Being the first in anything can be challenging, but being the  first with race or ethnicity as "tags," carry an added burden.  This burden comes from the first day you learned that you were "different" solely because of the color of your skin.  How do you overcome it?  Humanly, one would say, "Develop a thicker skin even if it is black." Spiritually, I say, "Re-identify yourself as a child of God–a child whose color is perfection, race, Christian and intelligence, divine."
 This is achieved step-by-step (patience), with great resolve (perseverance) and by repeating and demonstrating that message over-and-over (persistence).   This re-identification helps one melt the inner struggles and focus on the task at hand.  Gabrielle Douglas has been catapulted into the spotlight.  How will she handle it?  No one knows, but we are all waiting to find out!
Missy Franklin
In May, 1995, Missy Franklin was born to Dick and D.A. Franklin in Pasadena, California.  Presently, she resides in Colorado.  Her parents are Canadians, and Missy enjoys a duel citizenship.  Her swimming career began at the age of 5.  It has not been an easy "lane for her to swim in."  For example, in the 2008 Olympics, she placed 37th and did not qualify for competition.  What did it take for her to get there in the first place?  Patience and hard work.  What was it like to pull herself together and keep fighting at age 13?   Perseverance.  I am sure the support of her parents helped her to weather the storm, but failure is a bitter pill to swallow.  We have all experienced it, but, perhaps not in front of millions of people.
In spite of such a dismal failure at the 2008 Olympics, she rebounded in 2010 and competed in National Championships and placed second in the 100-and 200-meter back-stroke.   At the 2011 World Aquatics Championships in China, success kissed her in the face and she won 3 gold medals, 1 silver and 1 bronze.  A year later, at the Olympics in London, she competed in seven events– winning five medals, four of them gold.  It pays to be persistent!  Missy has learned the three P's and is proving they work.
As I traveled through life, I experienced many failures, but each one, when handled with higher levels of thought, provided consistent growth, maturity and personal development.  That is the message of this article.  This is the life of the athletes portrayed.  What about your life?  Like mine, you may never reach the Olympics, but you can walk across the stage of success.  Success, not defined by fame and fortune, but by self-respect, lack of fear, divine intelligence and sound leadership.  Character must be an ingredient when we choose our leaders, establish our laws and lead our children.  Three words: patience, persistence and perseverance point the way.
Related Information