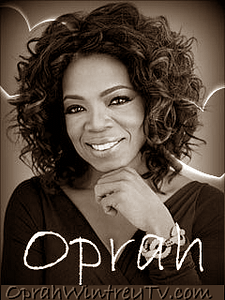 Who is Oprah Winfrey?  An icon?  A living legend ?  A household name  known throughout the world? A billionaire?  A talk-show host?
I discovered she is all of the above, and much more!
Let me tell you about it. Open your thought!
It is Monday, December 20, 2010, and I have just arrived at my little hideaway in the south–after eleven hours of highway driving.
After consuming a Wendy Apple Salad and watching the DVD entitled "The Book of Eli," I scanned the DVD collection to come up with something else to watch.  My eyes landed on "The Oprah Winfrey Show, 20th Anniversary Collection," and refused to move an inch further.
A little voice inside whispered, "You've seen the entire collection several times, do you really want to see it again?"  I moved on, but felt myself being drawn back to the Oprah collection.  Finally, I gave in and settled down to watch it again–starting from the very beginning of the series.  My husband, who had previously declined to watch it with me, decided to take a "look."
The first DVD is Oprah's "Beginning."  It shares many experiences which led her to become a talk show host–successes, challenges and how she overcame and adjusted to them. We marveled at the numerous changes her appearance went through before arriving at the person she is today.
After a two-day sitting of watching Oprah narrate over 20 years of her life, the impact and depth of each experience pulled at my heartstrings, and I found myself actively engaged with her. Not only was I sharing the experiences of the story-tellers and Oprah's reaction to them, I also shared her feelings as she narrated and viewed them a second time.  I saw her tears as she dug into their lives–connected with their pain, and felt her empathy as she re-lived each heartache, each painful cry.  I was transformed!   I saw her for the first time.
Her soul lay bare before me.  Peeling away the layers of her inner self, also uncovered the cavalier attitude I had held of her for many years.
Of all the DVDs in the collection, "Heartprints" touched me the most.  There are many reasons why this one made an indelible print in my heart–some being–the participants showed great courage, humility, inner strength and honesty.  The one however, that impacted my life the most, was the fact that it was copyrighted in the year 2005–the year my daughter passed away–a time the holes in my own heart were reaching deeper and deeper, leaving an unending void that nothing seemed to fill.  A time I struggled with guilt, anger, and a deep sense of loss.  Many thoughts, words and deeds aided in my healing process, and Heartprints was one of them.  I cried for the people who told their stories, grieved with them when they lost their loved ones, and experienced the horror of crime and destruction that breached their lives.  I was one of them–their pain became mine, their struggle aided me in mine, and their courage pushed me along.  It was experiences such as these that helped me write a book entitled "The Unfolding of a Rose"–a tribute to my daughter.
Death is a mental dream that all must awake from–either here or hereafter.  The human frame is merely a "cover" for the inner spirit.
Heartprints revealed people like Kathy Bray, Erin Kramp, George Dawson, and dear Mattie.  These people are candles placed gently on the hilltops of life, letting their lights shine so that others may find their way. They are among the world's brightest stars–twinkling and turning so that we may turn our disappointments, challenges and sufferings into successes and triumphs.
Oprah is the excavator who dug out these gems, dusted them off, allowing them to sparkle and glow along the roadside of existence.  Anyone who has followed her life for 25 years, cannot deny her inspiration, ambassadorship, business acumen and human spirit.   What is the foundation of her success? If one could define it in a few words, they would be patience, persistence, perseverance, wisdom, hope and a strong faith in the goodness of God.  Oprah has a spark–a spark that reaches into the tiny crevices of thought, and uncovers the darkness that envelopes the true nature of being.  Is this a spark that falls only upon a chosen few?  No!  Each of us has that spark–the godliness that comes into thought and soothes and erases the little hurts, big hurts, and unbearable sorrows.  Most us do not know we have it.  Therefore, we do not take the time to discover and develop it.  Oprah did!
That sparkle is called "the Christ." Open thought to its presence, and let it take you by the hand and lead you to the gift that you have to share with the world.
A Touch of History
Born in the heartlands of the south, Oprah Gail Winfrey was burdened by racism, stung by poverty, and shaped by religion. Her earliest memories are learning and reciting Bible verses under the watchful eye of her grandmother.  It is easy to spot the rudiments of this religious doctrine (though well-polished)  in the depth of her voice, empathetic nature, and seemingly innate ability to guide people through the dim and dark secrets of their lives.  These ingredients, along with business acumen, enabled her to become "queen of the talk show genre,"  purchase Harpo Studios, and turn it into a multi-million-dollar business.  Her life is a testament to her philosophy of life:  "It doesn't matter who you are, or where you came from.  The ability to triumph begins with you.  Always."   I suppose I would add, "begins with God, and culminates in you."
Discipline started with that loving grandmother and blossomed with a strict father, who not only gave her a secure home, but an educational foundation that led her through the highways and byways of life.  In speaking of him, she says, ".  .  . as strict as he was, he had some concerns about me making the best of my life, and would not accept anything less than what he thought was my best."
Stories of Oprah
It is not the intent of this article to rehash the numerous stories of Oprah Winfrey.  They have been told, re-told, and told again and again.  Everybody is weary!  Some of the stories are true, others untrue.  I am not a writer who seeks to "unearth" the hidden secrets of her life.  I think it has been a good life. We have all done things that we wish we could re-do, spoken words we would take back, or made choices we would re-make.  That's the merry-go-round of human life we ride on.  At times, it moves too slow–too fast, and even throws us off.  However, we must get-up, dust ourselves off with messages of faith, hope, and grace.  .  . and jump on again.
My story is about a woman who has encouraged spiritual values, healthy living, and self-help; shone a light on child abuse, and became one of the world's greatest philanthropists.
Since 1994, she abandoned traditional talk-show fare, and emphasized uplifting and inspirational topics and themes.  Some have described her as a "post-modern priestess–an icon of church-free spirituality."
Spirituality is one's personal relationship with God–that divine connection that allows the Christ to come to human thought and destroy the sins of the world.  Once destroyed, we hear the right thoughts, speak healing messages, and demonstrate divine Law.  These in turn, give us an undisturbed peace, a wealth of knowledge, and an all encompassing love.
Whether you are standing on the sidelines, or playing the game in the middle of the court, all can recognize that "the woman called Oprah" has made the world a better place because of her presence. As we follow her on the "Oprah Winfrey Network" (OWN) that she launched at the beginning of this year, let us keep our thoughts focused on higher levels of productivity, sound moral values, and greater unity between God and man.  Doing so, will not only allow us to see the inspiration, wisdom, grace, and positive growth in Oprah, but discover it within ourselves.
Related Information:
http://www.amazon.com/dp/B004LDLSBC/ref=as_li_qf_br_asin_til?tag=openthoutrant-20&camp=0&creative=0&linkCode=as1&creativeASIN=B004LDLSBC&adid=0NN4JZRPHTTM86RD9QQW