Whitney Houston

 Randomly flipping through the channels in an effort to find something of interest to view, I saw it–words that caused the remote to freeze in my hand: "Whitney Houston: Dead at 48."  While my first reaction was shock, another voice whispered, "Are you surprised?  You know she was on drugs."  Quickly, I challenged the voice, forced it to turn away from the negative "You know" to a positive "You know–you know she had one of the greatest voices during your lifetime–a voice that relaxed the demons, tickled the spirit and massaged the soul."  It was not only her voice, it was also her beauty, stage presence and the sense of honesty rising to a crescendo of audience acceptance as she delivered the message of the song.    You felt it!  Somehow it changed your life for the moment, and sometimes, even  moments to come.  Whitney Houston, how did she begin?  Where did she go?  How did she get there?
Whitney Elizabeth Houston was born August 9, 1963 in Newark, New Jersey to entertainment executive John Russell Houston Jr.  and gospel singer Cissy Houston.  At eleven years of age, she followed in the footsteps of her mother and began singing in the choir at the New Hope Baptist Church in Newark.  Her first church solo performance was "Guide Me, O Thou Great Jehovah"— words if understood and practiced, can be the foundation and guide for one's life.
Remember Her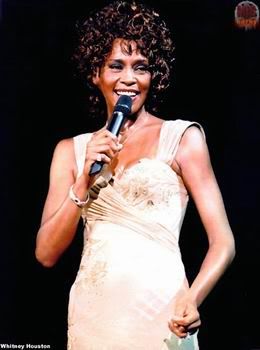 I remember the first time I saw her face on the TV screen, heard that astounding voice and marveled at her success!  She seemed to transcend human life and touch something beyond.  You felt it, but could not explain it, but  .   .   .   you knew it was there.    As a singer, I know what it means to capture an audience, have it mentally sing every note with you and caress every word!  It is a bond that binds, and a moment when hearts intertwine–the epitome of a relationship between a performer and the listener.  Many try it, few succeed!
Not only was Houston the greatest pop singer of all time, she was also a good actress.  I watched the movie "The Bodyguard" over-and-over.   The story-line, coupled with the powerful and moving voice of Whitney, resonated with audiences everywhere.   Waiting To Exhale allowed fans to concentrate on her acting ability because singing was not part of the movie.   Her role as a TV producer in love with a married man, was a message to any woman who feels that life is not complete unless a man is in it.  Unfortunately, its message did not translate into Houston's ability to do the same with her own life.   Her marriage to Bobby Brown revealed the depth of her struggle with relationships and the lack of dominion over deep-seated mental anguish.
In 1987, Whitney's hit single "I Wanna Dance with Somebody" hit the top 100 charts in countries like Australia, Germany and the UK.  She was the first female artist to have an album with four #1 hit singles.  Her earnings made her the highest paid African American female overall, and was third to Eddy Murphy and Bill Cosby as the highest earning entertainer.
Celebrate Whitney
 Houston was a supporter of the anti-apartheid movement led by Nelson Mandela.  In the early years of her career, she demonstrated that support by not working with agencies who did business with apartheid South Africa.   She participated in the Wembley Stadium in London to raise over $1 million for Mandela while he was in prison.    She also raised money that supported the Negro College Fund.
In 1989, Whitney formed the Whitney Houston Foundation for Children — a non-profit organization that cares for the homeless and children suffering from cancer and AIDS.  In 1990, President George H.W. Bush invited her to the Oval Office to participate in the Youth Leadership Forum.  
We could go on and on, racking up human successes and failures and grading them on a scale of 0 to 10, but is that truly what life is about?  Is it not measured by the divine qualities of thought?  Such qualities of thought reveal themselves in acts of kindness, hope, faith and perseverance.  Human experiences may knock us down numerous times, but life is not only measured by the number of times we fall, but also by the courage with which we rise.  The demons of sensuality reveal themselves in many ways.  My demon may not be yours, but isn't a demon a demon?    All must be conquered before we wear the garments of salvation.  Time is better spent making sure our garments are clean, and recognizing that it is not our responsibility to purify the garments of our fellow man.  In the realm of Spirit, sin is sin.  There is no little sin or great sin.  All must be destroyed.  Mind, God is the Architect of our thoughts, Spirit the substance, and Soul the happiness, harmony and beauty within.
How Do We Moan Her?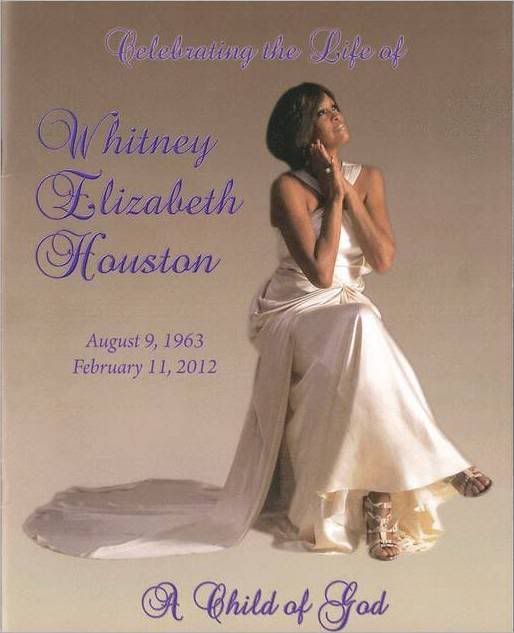 We moan her not with tissue and "hanky" in hand, but with affirmation and gratitude.  Affirm that she is still continuing her journey–a journey that conquers beliefs of the flesh, radiates with self-confidence and glows in faith and determination.
Life does not began nor end in mortality.  It exists in the realm of Spirit, exercising the substance of Mind and radiating through the senses of Soul.  Let us affirm that "the greatest love of all"  is not of ourselves, but of God–a love that never ceases, but continues eternally.
Let us use Whitney's legacy "I Will Always Love You"  to reassure ourselves that this love is not human, but divine–a love without judgment, limitations and conditions, but ever-present here, now and always.
Click on the link below:
http://www.youtube.com/watch?v=H9nPf7w7pDI
If you were inspired by this article, pass it along to a friend.